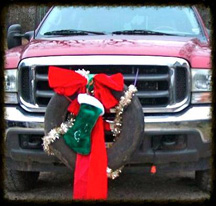 Christmas Gift Basket GIVEAWAY!
That's right! You have a chance to WIN a Rockin H Ranch, home of Real Farm Foods, Christmas Gift Basket!
We want to see your best, most creative, farmstead Christmas decorations. Do you hang lights on the chicken coop? Homemade wreaths on the front gates? Special hats for the milk cows? Barn boots for the poinsettias?
Snap a photo and post it to our Facebook page by December 19, 2015. We'll choose a winner and post the winner on our Facebook page on Sunday, Dec. 20!